HYM Beyond Asana Teacher Training in Hampton Roads VA
It has been said that if you practice yoga steadily for 6 months, you will either move on or have your life changed forever.
Hot Yoga and Massage Studio is now accepting applications for the HYM Hot Yoga Methods 200 Hour Teacher Training. The Hot Yoga Method is a practice focused on in-depth body alignment to prevent injury and to achieve optimum results in one's own personal practice. As a student at HYM, you will immerse yourself in the study and philosophy of Yoga, learn teaching techniques, and deepen your personal practice. Our combination of classroom lecturing, philosophical reading and review along with asana practice and practical teaching in a yoga room setting will prepare you to explore and teach your passion.
We are a MYCAA approved school
This program offers an extraordinary opportunity to immerse yourself in yoga and a yogic lifestyle through studies including:
Teaching Technique & Methodology with Practical Experience
Anatomy and Physiology
Philosophy of Yoga & Lineage
Ethics
Voice Training
Yoga Lifestyle
Meditation & Pranayama
Training Dates & Times
2023
March 3, 4, & 5
March 17, 18, & 19
March 31
April 1 & 2
April 14, 15, & 16
April 28, 29, & 30
May 5, 6, & 7
May 19, 20, & 21
Fri 6pm–8pm
Sat 8am–6pm
Sun 8am–6pm

---
Cost $2500 which includes unlimited yoga during the training
Payment plans are available
A $500 deposit (non-refundable) is required to secure your spot
Full amount must be paid before training starts.
Required reading
Bhagavad Gita: The Beloved Lord's Secret Love Song by Graham Schweig
The Yoga Sutras of Patanjali by Sri Swami Satchitananda
Anatomy of the Spirit: The Seven Stages of Power and Healing by Caroline Myss
Functional Anatomy of Yoga: A Guide for Practitioners and Teachers by David Keil
---
What makes our training different?
Taught by premiere Yoga Teachers
Dr. Graham Schweig
Edie Fisher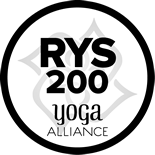 Micro vs. macro training approach
Intense focus on the most critical areas
Develop true mastery of yoga skills
"By focusing so intensely on my practice for three months, the teacher training brought my physical practice to a different level; helping to focus on alignment, increase stamina and efficiency, and move with the breath. This base that I've developed has continued to carry over allowing me to get more from my current classes. Also, teacher training allowed me to deepen my practice by developing its nonphysical aspects, the ability to focus and move through my practice in a meditative state, and to take those abilities out of the studio and into the world. I now find myself using techniques such as focusing on an intention, clearing the mind, and deep breathing throughout the day. The training also introduced me to the history and philosophy of yoga which provided structure and depth to many ideas alluded to in various classes, websites, and blogs. In these ways, as a result of my teacher training, yoga has become less a workout routine and more a way of life."
— Jeff T., recent 200 RYT graduate